Description
If you dream about white chocolate, the Polar Dream Milkless Bar is about to change your life forever. Our unique milk-free formula utilizes all-natural, high quality ingredients that will exceed your flavor expectations. The bar looks, feels, and tastes like traditional white chocolate without the milk, eggs, dairy, and food allergens! (40g) Polar Dream- Creamy White Chocolate Bars. 16 Bars in a display. (40g each) This product is made in a dedicated facility free from the top 9 common food allergens and is gluten free. This product is dairy free, peanut free, tree nut free, soy free, wheat free, egg free, fish free, shellfish free, sesame free and gluten free!! Plant Based, vegan & all natural.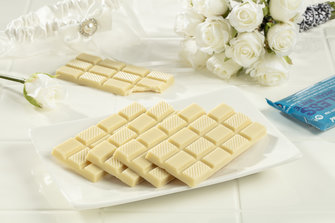 Vegan, All Natural, Dairy Free, Milk Free, Lactose Free, Peanut Free, Tree Nut Free, Egg Free, Soy Free, Wheat Free, Gluten Free
Ingredients
Ingredients: Vegan Cane Sugar, Cocoa Butter, Sunflower Lecithin, Natural Vanilla, Dextrose, Natural Flavor

Nutritional Facts: 1 serving per container, serving size (40g), Calories 210, Total Fat 14g, Cholesterol 0mg, Sodium 5mg, Total Carbohydrates 24g, Protein 1g.