Description
One bite into a No Whey bar and it will transport you to the depths of a chocolate fantasy. The inside is layered with our famous PeaNOT nougat and velvety, vegan caramel. When you bite into this unique candy bar, you won't believe that there is no milk, peanuts, nuts, eggs, soy, or gluten - NO WHEY! Net. Wt. 2 oz. This product is made in a dedicated facility free from the top 9 common food allergens and is gluten free. This product is dairy free, peanut free, tree nut free, soy free, wheat free, egg free, fish free, shellfish free, sesame and gluten free.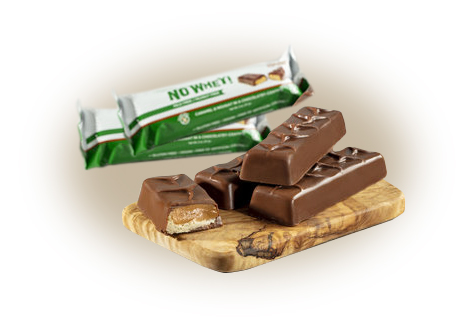 Vegan, All Natural, Dairy Free, Milk Free, Lactose Free, Peanut Free, Tree Nut Free, Egg Free, Soy Free, Wheat Free, Gluten Free
Ingredients
Ingredients: Vegan Cane Sugar, Cocoa Butter, Unsweetened Chocolate, Organic Brown Rice (Partially milled), Roasted Sunflower Seed, Maltodextrin (From Corn),
Evaporated Cane Syrup, Corn Syrup, Chickpeas, Xanthan Gum, Canola Oil, Safflower Oil, Flax Oil, Olive Oil, Palm Oil, Pea Protein, Lactic Acid (Non Dairy),
Tricalcium Phosphate, Vitamin A Palmitate, Vitamin B12,Vitamin D2, Natural Annatto (Color), Salt, Rice Syrup Powder, Sunflower Lecithin, Dextrose, Natural Flavor, Vanilla. CONTAINS PEAS


Nutritional Facts: 1 serving per container, serving size (57g), Calories 260, Total Fat 7g, Cholesterol 0mg, Sodium 42mg, Total Carbohydrates 44g, Protein 1g.