Repost from: Eating Gluten and Dairy Free
chocolate peppermint candy cookie ingredients + tips
dairy free butter— at room temperature, we use Earth Balance Soy Free Buttery Sticks for baking
granulated sugar
packed brown sugar
eggs— at room temperature
gluten free flour— we use Bob's Red Mill 1 to 1 Baking Flour available in bulk here or in your local grocery
xanthan gum— omit if your gluten free flour blend contains this
unsweetened cocoa
baking soda
salt
vanilla extract
No Whey Foods Peppermint No No's— these are allergen friendly (free of the common eight including gluten, dairy, peanuts, tree nuts, soy, and eggs). They taste AMAZING and are a Christmas must. You can purchase them in a box of 12 individual bags or as a 3-pack. This recipe calls for the 3-pack; if you can, splurge for the box and read below other ways I love to enjoy these.
this cookie dough will be thick and sticky. Allowing the dough to rest in the refrigerator for 20 minutes prior to baking will help it to be more workable.
bake for 8 minutes and promptly remove the cookie sheet from the oven. Then allow cookies to finish baking on the cookie sheet for another 3-4 minutes. Then transfer to a cooling rack until completely cooled.
store cookies in an airtight container in the refrigerator up to a week or in the freezer for a month
Peppermint No No's are delicious eaten by the handful, as stocking stuffers, and are an absolute must in this Christmas Snack Mix recipe.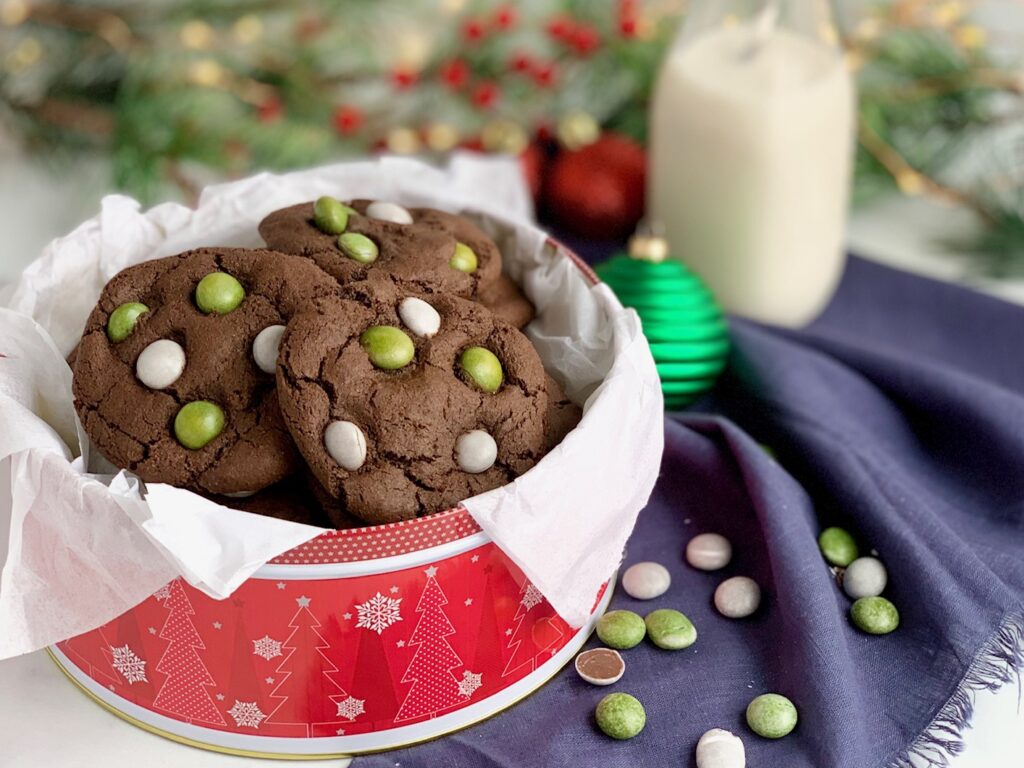 Ingredients
½ c dairy free butter, room temperature suggestion in post
1¼ c granulated sugar
¾ c brown sugar
2 eggs, room temperature
2 tsp vanilla extract
1⅔ c gluten free all purpose flour suggestion in post
1 tsp xanthan gum omit if your GF flour blend has this
1 c unsweetened cocoa powder
1 tsp baking soda
½ tsp salt
3 1.63 oz bags No Whey Foods Peppermint No No's
optional– adding in mini chocolate chips
Instructions
In a large bowl or electric stand mixer, cream the butter and sugars well.
Then add in the vanilla extract and eggs one at a time until just combined. Be careful not to overmix.
In a medium bowl combine the gluten free flour, xanthan gum if needed, cocoa powder, baking soda, and salt.
Transfer the dry ingredients into the large mixing bowl and incorporate well into wet ingredients. The dough will become very thick and sticky. If using a handheld mixer, you may need to mix the last bit by hand.
Place plastic wrap over the bowl and allow to rest in the refrigerator for 20 minutes.
Preheat the oven to 350°F and place parchment paper on two cookie sheets.
Remove dough from the refrigerator.
Scoop dough out by the rounded tablespoon and roll into a ball, then flatten. If dough is too sticky, you may need to use nonstick spray on the bottom of a flat drinking glass and gently push the dough down.
Place cookie dough cookies about 2 inches apart on a cookie sheet (12 cookies per baking sheet)
Press 3-5 No Whey Food's Peppermint No No's into the top of each cookie.
Place in the oven for 8 minutes. Cookies will look under baked; however they will finish baking on the cookie sheet. After cookies have cooled 3-4 minutes, transfer them to a cooling rack.
Once cookies are completely cooled place in an airtight container in the refrigerator up to a week or in the freezer for a month. These also make great gifts in cookie tins.
Optional– add in ½ c. mini chocolate chips to this cookie recipe